Authored by Guidemark Health, now part of Lumanity
November is more than just the Season of Giving—it's also Lung Cancer Awareness Month. Last week, my wife and I attended LUNGevity's seventh annual Celebration of Hope Gala in NYC where I had the privilege of meeting many of the people in this picture. It's truly inspiring to say that everyone in the picture below is a lung cancer survivor! What absolutely blew my mind was the number of survivors in the room…. think about it; LUNG CANCER SURVIVORS IN THE ROOM!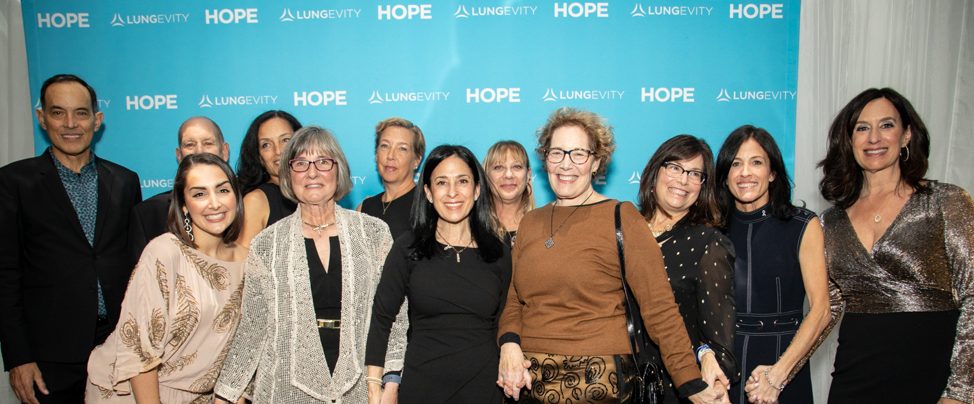 Those of us in attendance couldn't help but be inspired by their courage, strength, and intense focus on doing whatever it takes to defeat this terrible disease. As the night went on, I got to know more and more of these folks. I learned that many of them were never-smokers and are otherwise healthy individuals that, unfortunately, had a genetic abnormality that led to the cause of their cancer. For me, this reflects the great strides that have been made in screening efforts, better diagnosing and staging, and, of course, more targeted approaches to treating lung cancer.
I've been involved in lung cancer for over 20 years, dating back to when options were limited to just a few chemotherapy combinations; a time where we didn't use the term "survivor" often and almost never used the term "long-term survivor." A lot has changed since then and it's truly amazing. There are better preventative measures, improved techniques and early detection, and an expansive knowledge base to better understand the various types of genetically driven lung cancers. Gone are the days of the assumptions associated with cause of lung cancer such as smoking or mainly being environmentally driven. These discoveries continue to provide insights into new drivers that can now be targeted and treated more effectively.
While the progress is clear, lung cancer remains the most common cause of cancer deaths in both men and women, in the US and worldwide. In the US alone, it it's estimated that there will be about 155,000 deaths from lung cancer in 2019.
So, while there is much to be excited about, there is still a lot of work that needs to be done to truly change these statistics. With that in mind, I want to end by thanking the many people who have dedicated their careers and their lives to changing the face of this deadly disease. Your passion and focus are what continues to drive the evidence and fuel progress, so that hopefully someday soon, perhaps we can use the word cure and lung cancer in the same sentence.