The healthcare industry has achieved some powerful advances in medicine in the past decade. The Food and Drug Administration (FDA) is approving record numbers of new therapies and new indications for existing therapies, often via fast-track approval pathways. Meantime, healthcare payers are facing the challenges of determining coverage policies for the high number of innovative therapies coming to market. Keeping up with advances in complex diseases and therapies from a clinical standpoint, while managing affordability and value considerations, can be a heavy lift.
These dynamics require early and consistent evidence sharing and dialogue between payer decision makers and manufacturers. In order to further support this ongoing scientific dialogue, both in pre- and post-approval phases, the FDA issued clarifying guidance on payer communications in 2018. In addition, the recent signing of the Consolidated Appropriations Act, 2023 (H.R. 2617) supports appropriate pre-approval information exchange between manufacturers and payer decision makers, which will be the focus of our second piece in this series.1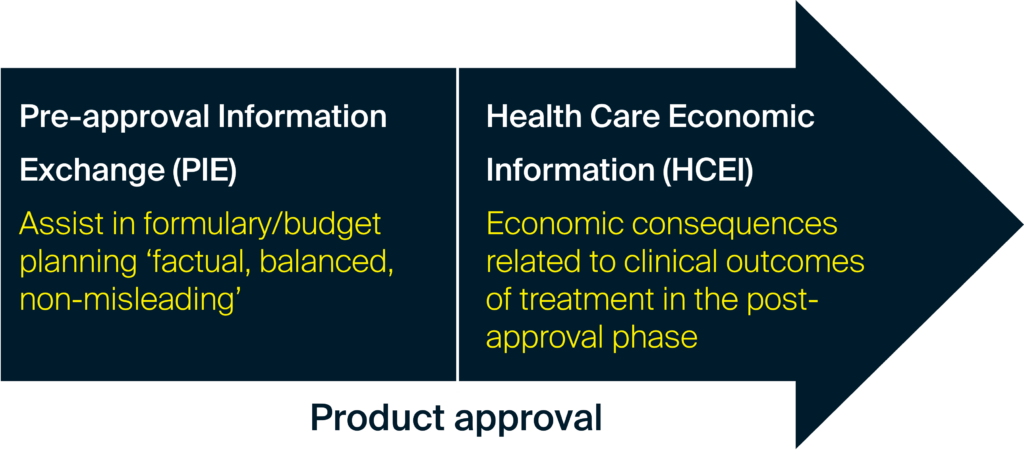 FDA guidance on payer communications
The FDA guidance provides a framework for pharmaceutical manufacturers to communicate clinical and economic evidence with US payor audiences for both approved and unapproved therapies as well as unapproved new indications.2 However, within the pharmaceutical industry response to how the guidance is interpreted varies considerably.
Our clients often have questions about the existing FDA guidance and look for clarification on some of its key elements. Frequently asked questions include:
What types of evidence can be communicated in a pre-approval timeframe?
Who is the appropriate audience?
Who can deliver this information?
What best practices have been identified?
There are important differences in the FDA guidance on communication to payors for approved drugs and unapproved drugs and uses. We'll investigate the opportunities for ongoing dialogue in these areas in upcoming articles in this Lumanity series.
For pharmaceutical manufacturers, it's essential to build a solid internal process to evaluate opportunities to produce and communicate evidence that's vital for payers to consider in their decision making. The internal process requires broad perspectives and input from multiple functions. Health Economics and Outcomes Research, Market Access, Medical Affairs, Legal and Regulatory all have a part to play in this internal process.
With the record number of therapeutic products coming to market, pharmaceutical manufacturers are competing for payers' time and coverage considerations. The creation of payer communications that are compliant, contain the information payers need, are compelling and effective, as well as delivered at the right time, are all necessary for a successful product launch and ongoing product support.
More on this topic
This article is part 1 of a series on 'Opportunities for Enhanced Communication between Manufacturers and US Payers'. You can access part 2 of the series here and part 3 of the series here.
References
Text – H.R.2617 – 117th Congress (2021-2022): Consolidated Appropriations Act, 2023 | Congress.gov | Library of Congress. Last Accessed January 3, 2023.
Drug and Device Manufacturer Communications with Payers, Formulary Committees, and Similar Entities; Questions and Answers; Guidance for Industry and Review Staff. Available at: Guidance for Industry (fda.gov). Last accessed December 9, 2022.
Contact us
If you would like to find how we can help you produce your PIE and/or HCEI evidence and communication strategy, please contact us.