Authored by Guidemark Health, now part of Lumanity
All in, planning the hackathon took five months. In post-event debriefs among the H.A.C. MBC committee, three overarching themes for hosting a successful hackathon emerged:
Build the right team: Assemble a strong team based on relevant expertise in event planning, audience insights, design thinking, marketing, and therapeutic experience.
Plan, plan, plan: Meet regularly and allot enough time to cover all the details and program related decisions.
Stay flexible: Expect change. Be able to pivot and adapt. See tip #2 and allow adequate planning time.
Some of the main planning areas included branding, logistics, judging, and driving attendance. Read on for some perspective and questions to ask if you are looking to plan your own health hackathon. Some tasks will be more obvious than others, but we learned quickly the devil is in the detail.
Branding
Naming a hackathon can be extremely challenging, especially in the health and non-profit space. Start by deciding what type of name you prefer. In our case, we felt strongly about having a descriptive name. After each ideation session, be sure to do manual reconnaissance for the names under consideration. You may find it takes several rounds of brainstorming to land on something original that captures the essence of the event.
Logistics
What type of event do you want to host? The location and space should be determined based on the type of participants you are hoping to attract. Time of year should also be carefully considered. Given our focus on metastatic breast cancer, we wanted to avoid October and the immense noise around the pink movement. We ultimately decided on January which avoided conflict with any large industry events and appealed to the sense of renewal a new year brings.
A hackathon is similar to any other type of event in that you have to consider furniture rentals, food, and even entertainment and networking. Depending on the participant mix, you may also opt to share background information or start the day with expert presentations to level set and inspire the teams. Of course, to keep energy levels high don't forgot things like healthy brain snacks and coffee on tap throughout the day.
Judging
Determining the judging panel and evaluation criteria are critical steps. For our event, the greatest indicator of success was to have a viable idea for CancerCare to build on as they continue to pursue their mission to provide free, professional support services to anyone affected by cancer.
In order to facilitate the most comprehensive evaluation, we assembled a team of judges who, when brought together represented a broad range of expertise. Since the goal of H.A.C. MBC was to ideate a solution over developing software like a traditional hackathon, we prioritized experience in advocacy, health policy and creative design.
Carolyn Ricci, Event Keynote, and Christine Verini, Chief Operating Officer at CancerCare, were joined by other esteemed judges including: Michael Zincone, Advocacy and Professional Relations, Pfizer Oncology; Wayne Sichel, Former Head, U.S. Federal Policy, Bristol-Myers Squibb Company; and Nora Herting, Co-Founder and CEO, ImageThink.
We had a number of ideas on how to identify a great solution and wanted to be very objective when scoring team submissions. We considered several judging criteria including innovation, impact and speed-to-market. After much debate and long conversations among the steering committee and judges, we identified and prioritized the judging criteria. Ultimately, how you determine and prioritize the evaluation criteria should directly ladder to the objective of your event and be made clear to participants.
Driving Attendance
Do not underestimate the importance of a well thought out communication plan when it comes to generating awareness and interest for the event. Are you looking to generate broad awareness via an open call? Even if you are aiming to host an intimate, invite-only event, you will still need to consider touchpoints across owned, paid, and earned channels to increase buzz and funnel those interested toward registration. There are a number of cost effective management tools on the market to help centralize registrations and event details. Finally, remember to keep space capacity in mind while promoting the event and have a plan for last minute cancellations, especially if participants are working in teams.
Final Details
The weeks leading up to the hackathon were very busy and very exciting.
Almost every touch base unearthed another idea or task that hadn't been thought of prior. For example, given a winter date and amount of attendees, it occurred to us that the coat closet probably wouldn't suffice so we secured a free standing coat rack for overflow. Even with last minute adjustments, the team remained fully engaged and flexible. Increasing the number of meetings as we neared the event date meant we were able to execute dry runs and easily accommodate last minute tweaks and additions.
When the big day arrived, set up was well coordinated and smooth. Extra tables and rented chairs filled the space exactly as planned. Additional Guidemark Health team members were on hand to help set up and staff the event. Attendee bags were stuffed, the registration and welcome station was organized, and team rooms were set up with snack bowls, writable walls, dry erase markers, and other fun collaboration tools.
We designed the challenge definition on a wall visible from all vantage points to keep everyone focused throughout the day. With everything set and the coffee hot, we were ready for the big day.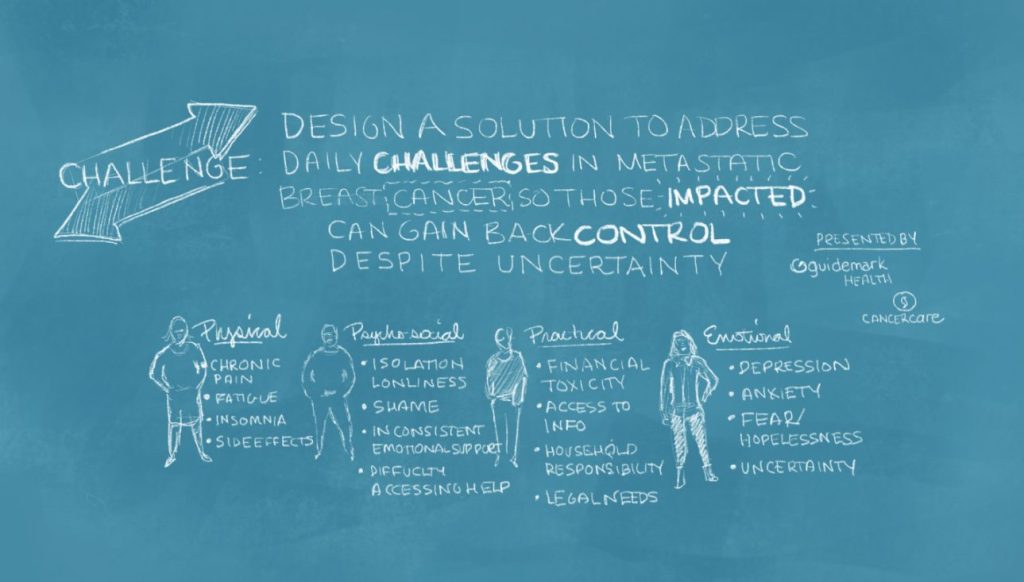 Did you miss Part I? Read it here
Read Part III here