What does it take to ride the highs and lows and deliver launch success? That's what Lumanity set out to answer in its live Q4 2022 webinar: The Launch Rollercoaster.
The three-part session focused on:
The importance of developing trust
Managing stakeholders' expectations across the launch timeframe
How collaboration is essential to optimising a business' resources
Why an agile mindset is important for success when launching assets
Finally, a panel of industry experts and a patient shared their experiences and opinions on launch success
"There is more pressure than ever to get a launch right first time, but the odds of this happening are diminishing. Very few launches exceed expectations, while many aspects of asset development are complex and fraught with challenge. This puts more emphasis on planning for success."

Jane Shirley, Global Practice Head, Asset Optimization and Commercialization – Lumanity.
Nurturing trust with HCPs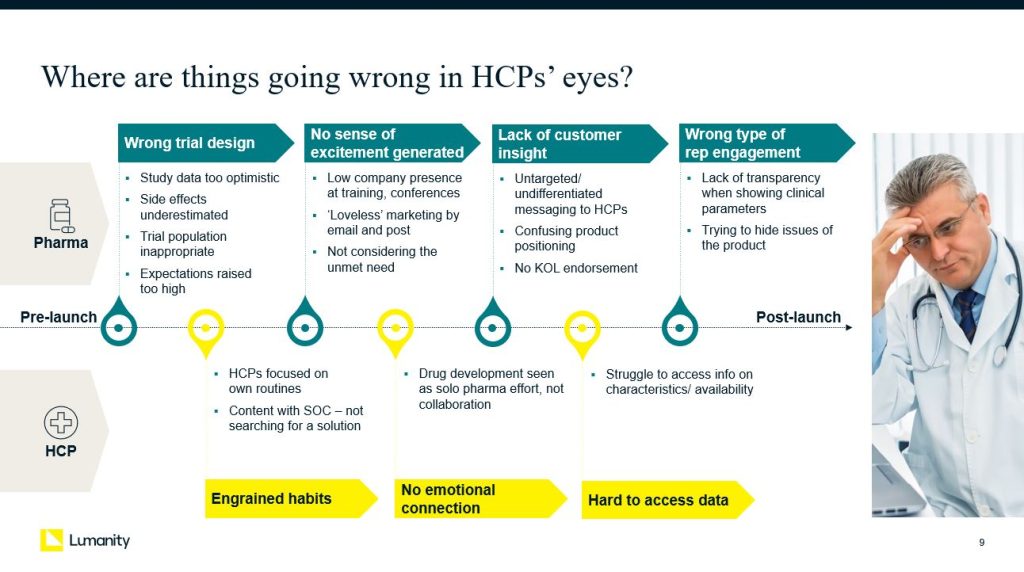 "Honest, data-driven conversations enable HCPs to make informed decisions: it's critical reps are seen as being transparent about a product, particularly side effects. Overselling or overstating a product is the #1 reason HCPs lose trust in a whole company, not just the product itself."

Andrew Wood, Lumanity
"For a good pre-launch, think about it like a coming attraction at the movies and. If there's a new mechanism of action, getting people excited about it. By the time the drug launches, you feel like you're comfortable with it already – getting people to fall in love with the drug before it arrives."

Haematologist
Collaboration and internal agility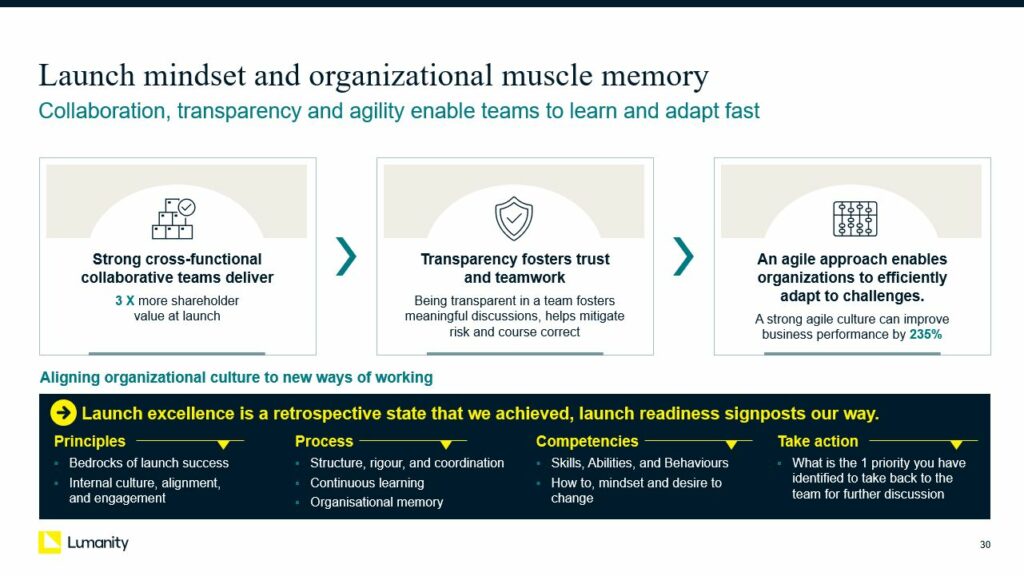 "Collaboration is fundamental. Everyone needs to keep their eyes on the end prize and that's ensuring the people who have patients in front of them have the right information to make the right decision for the right patient at the right time."

Louise Sheppard, Astellas
"An agile mindset in leadership is about continuous learning, embracing failure – but failing fast – and making sure every team member understands the goal and feels valued."

Tracey Barnes, Lumanity
How to approach patient engagement in launch
"End-to-end involvement of patients in the process and taking them on the trial journey will help identify unmet needs and develop a better understanding, building trust and credibility."

Graeme Johnston – Board Member, Patient Focused Medicines Development (PFMD) & Rheumatoid arthritis patient
Embracing omni-channel
"Different information for different people through different channels: omni-channel is complex and requires everyone to be completely joined up."

Louise Sheppard, Astellas
"Creating a truly omni-channel communication experience for customers requires holistic consideration of HCPs' and customers' journeys, addressing their different needs in different ways at different times."

Alex Adams, Roche
"Patient engagement should be part of the planning. It's not so much about what patients can expect from the launch of the product, but what they can contribute to a better launch."

Graeme Johnston